I've built a few sets of headlights now. The first was pretty good however I ended up selling them. The second was a flop. These, I think, are a winner.
The headlights that I built, last minute, before I did my road trip to California from Michigan seemed pretty good…but then I tried to do some night time canyon driving and quickly realized that they were grossly inadequate in that setting. My primary gripe was that the projectors did not put enough light out to the sides. I was entering turns blind, which isn't safe or confidence inspiring. I had to come up with something better.
Adaptive headlights have been on my radar for a while. Driving cars that are equipped with them has always been a treat. Making a set just wasn't a high priority. Then I was an idiot and forgot to reinstall my hood pins after washing the car. The hood flew up and I needed a new one. Putting headlights behind the windshield was something that I had also been contemplating because getting the performance I desired from the stock headlight location seemed unlikely, so I had a new hood made that blocked off the stock headlight openings and that put things into motion for high mounted adaptive lights to actually happen.
Anyway, photos….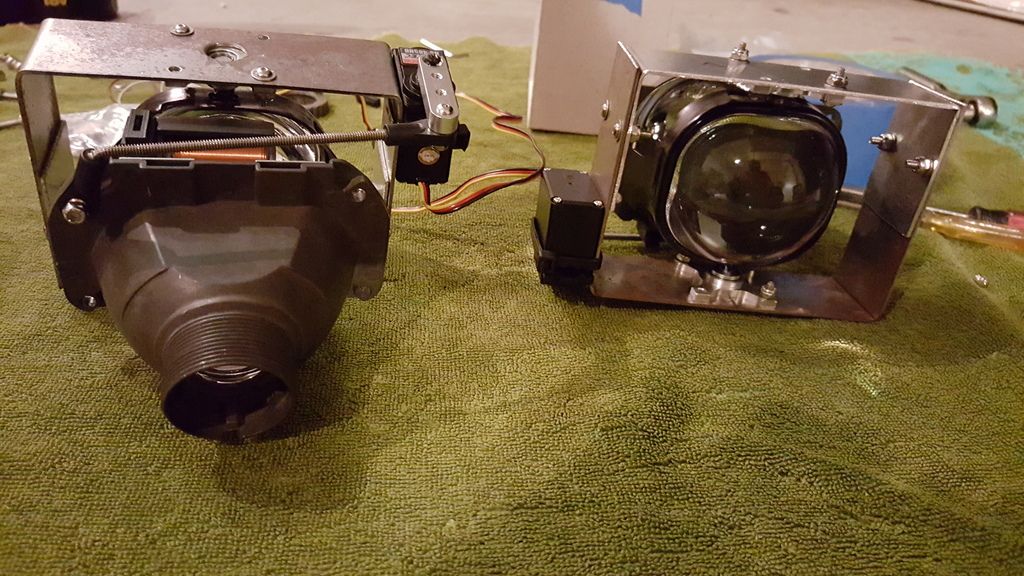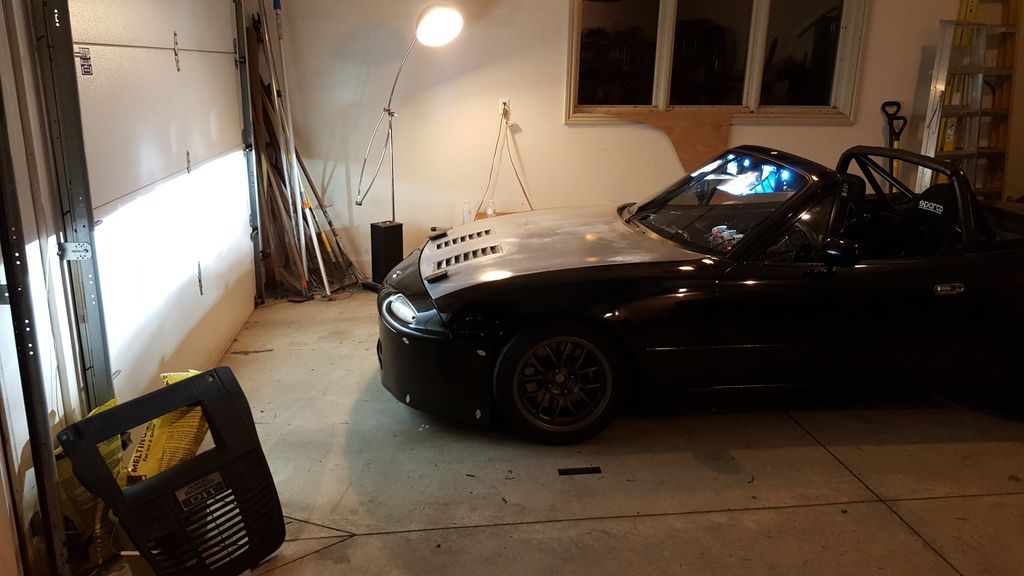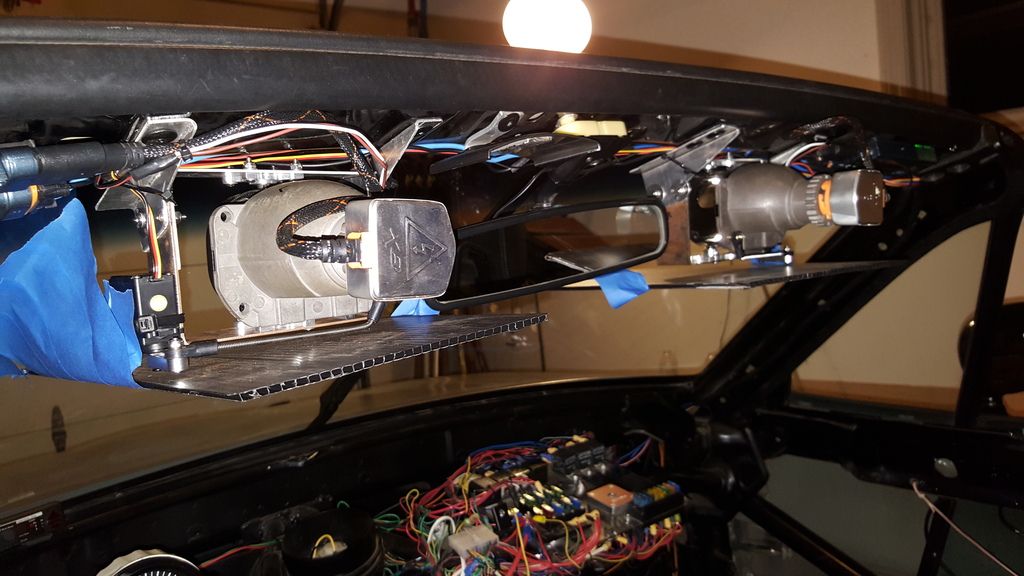 Covers to block out glare:

Pulley, bored out for the steering column.

A 10 turn pot went on the small pulley. This proved to be a cheap and easy way to track my steering inputs.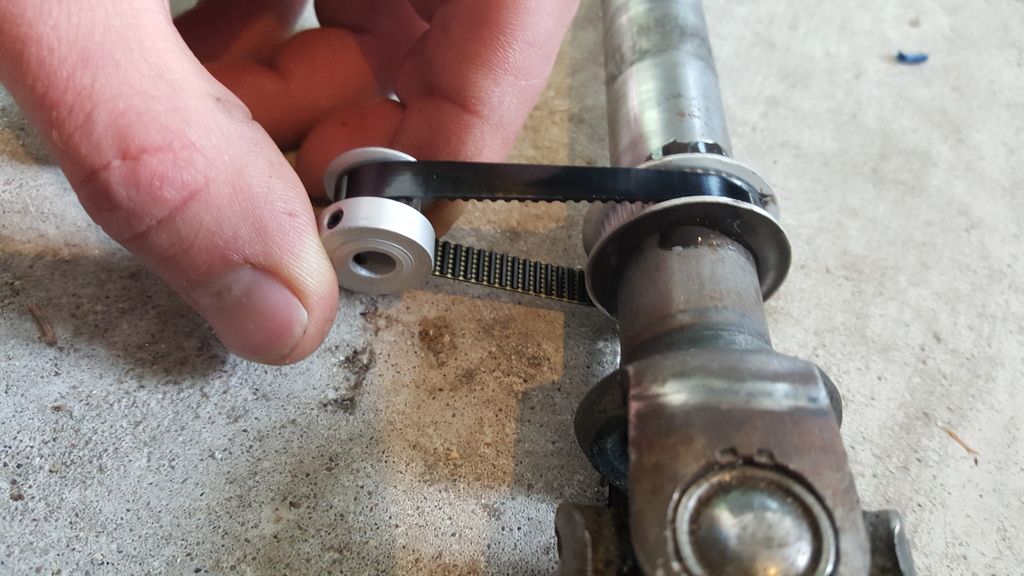 To answer the most likely questions….
-No, I haven't been pulled over with these yet. That said, I keep an excerpt from the Michigan motor vehicle code and a tape measure in the car so that I can prove that at least as far as mounting height goes, they're legal. They're aimed to be fairly courteous to other drivers.
-They do not obstruct my view in any appreciable way. I sit low and am only 5′ 9″. Taller people would have a tough time driving my car, which is fine because I don't really pass my keys around.
-They're controlled by an Arduino. Servos, equivalent to what you'd find on an RC car, move the projectors.
-Glare is negligible.
-This is what they're like in heavy rain. It sucks but I expected that. That's why I have the LED spot lights in the front bumper. They make the car plenty drivable in poor weather.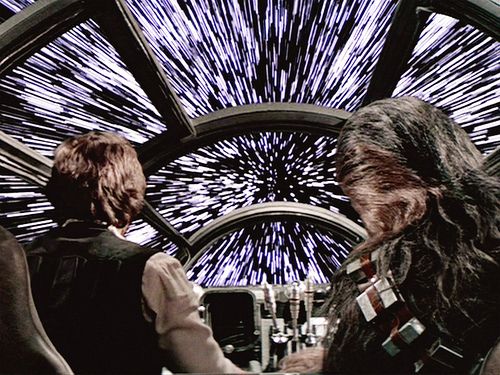 -I intend to eventually read the VSS output so that I can scale the headlight movements based on vehicle speed.
-They work great. I went to the tightest and most twisty local road that I know of. They threw tons of light where I needed it most.